Friday 28 November, 2008
"Wi-Gear on Thursday launched the newest version of its iMuffs wireless headphones, now compatible with the iPhone."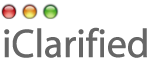 Friday 28 November, 2008
"Just stow your iPhone safely in a briefcase, gym bag or other area where it won't get damaged while you're busy doing your thing, and zone out."


Wednesday 26 November, 2008
"If you own an Apple iPhone the last thing you want is to have cords running from it to your headphones, and so Wi-Gear has brought out iMuffs MB220 for the Apple iPhone, optimised wireless headphones."


Tuesday 25 November, 2008
"Wi-Gear is helping Apple iPhone users cut the cord with iMuffs, wireless headphones that are now optimized for iPhone use."


Tuesday 25 November, 2008
"Ergonomically designed iMuffs let you pause, rewind, adjust volume and change tracks right from the headset without touching the iPhone."


Tuesday 25 November, 2008
"There is no telling how many times we've had trouble with our own headphone wires. That's why at Unplggd, we think that it's time to give wires the boot and go for some wireless headphones. iMuffs aren't just made for your iPod, but they are also compatible with any Bluetooth phone."


Wi-Gear Introduces New Wireless Headphones Optimized for iPhone
Tuesday 25 November, 2008
'iMuffs' Double as Music Player & Phone Receiver for Exercise, Travel & More


Friday 21 November, 2008
"Say hello to the iMuffs, a set of cordless headphones that wrap around the back of your noggin. ... The sound quality is good, the cord is history, and there are even controls on one ear that allow you to play, pause, fast-forward, rewind, and adjust the volume. Genius!"


Friday 21 November, 2008
"once paired you'll be able to stash your MP3 player in your pocket while still controlling volume and playback via the headphones themselves."


Monday 17 November, 2008
"Wi-Gear, a company that describes itself as being "committed to building a world without wires," introduced the iMuffs in line with this thinking."