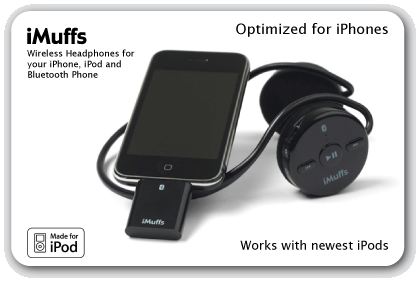 Cut the cord today, and enjoy the freedom to listen to your music wirelessly! No more cords to untangle or snag. Ergonomically-placed controls let you pause, change volume, skip tracks, and seek music right from the headphones
*
. With Bluetooth 2.0 technology, you can enjoy near-CD quality sound up to 40' (10m) away.
And when paired with your Bluetooth phone there's seamless switching between wireless music playback and voice calls using the same headphones. When an incoming call comes in, the phone will connect and ring through the headphones, allowing you to talk through the integrated microphone and when the call ends the headphones will seamlessly switch back to music.
Listen to music from your computer. Talk over iChat or Skype. The MB220 headphones with iPod adapter work with any of the iPhone models for music and phone calls. The MH220 headphones work with second generation iPod touch and iPhone 3G/3GS without the iPod adapter, but only has
basic remote control
.
Charge through your computer's USB port, or with the included travel charger. The iMuffs MA110 iPod adapter (optional) is powered directly from the iPod / iPhone!
iMuffs MB220 Bundle
Headphones + iPod adapter.
For full control of all docking
iPods and iPhones
(nano, classic, touch)
iMuffs MH220 Headphones
No adapter required for
iPhone 3G/3GS or iPod touch 2G.
Basic control only.
iMuffs MA110 Adapter
Add stereo Bluetooth to your orignal iPhone, iPod touch, nano, or classic