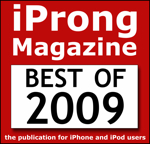 "Best Wireless Headphones"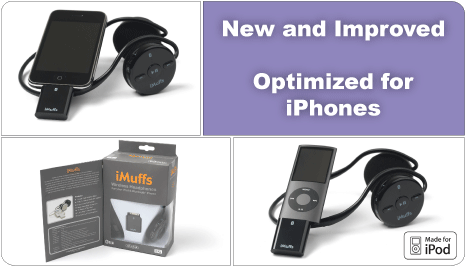 iMuffs MH220 Wireless Headphones
iMuffs bring cordless freedom to your iPhone 3G/3GS or other stereo Bluetooth enabled device. Cystal-clear sound up to 40' away. Comfortable, lightweight, with ergonomic controls to pause or skip tracks while traveling or working out. Even takes calls from your iPhone or Bluetooth phone with the integrated microphone. Rechargeable.

Crystal Clear Wireless Music
Fully Functional Bluetooth Headset
Ergonomic Remote Controls
Noise Cancelling Microphone
20 Hours of Play Time
Light-Weight Headphones
Durable High-Flex Headband
Note: The iPhone and iPod touch do NOT support forward, back, fast forward, or rewind. Only play/pause is supported. This is a limitation of iPhone OS 3.0. For full remote control, get the iMuffs MB220 which includes the MA110 adapter.
Product Specifications

Protocol
Bluetooth 2.0 with Stereo (A2DP), AVRCP, Handsfree (HFP), Headset (HSP)
Frequency Band
2.4 GHz
Tx Power
Bluetooth Class 2
Range
9-40 feet (3-12 meters) Actual range depends on environmental factors
Audio Format
Sub-Band Codec (SBC) with bit rate of 328 kb/s (High Quality)
Audio Input
Built-in unidirectional microphone
Battery Life
Up to 20 hours of continuous music depending on usage pattern, distance from transmitter and battery age.
Battery Type
Rechargeable lithium polymer 550mAh (built-in, not user-serviceable)
Power input
Standard USB voltage input (mini-USB, 5-pin) or provided USB power adapter (110-240V AC)
Weight
2.2 oz