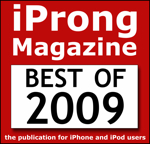 "Best Wireless Headphones"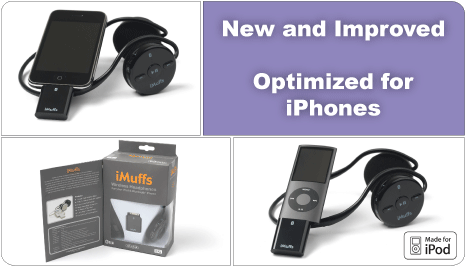 iMuffs MH220 Wireless Headphones
iMuffs bring cordless freedom to your iPhone 3G/3GS or other stereo Bluetooth enabled device. Cystal-clear sound up to 40' away. Comfortable, lightweight, with ergonomic controls to pause or skip tracks while traveling or working out. Even takes calls from your iPhone or Bluetooth phone with the integrated microphone. Rechargeable.

Crystal Clear Wireless Music
Fully Functional Bluetooth Headset
Ergonomic Remote Controls
Noise Cancelling Microphone
20 Hours of Play Time
Light-Weight Headphones
Durable High-Flex Headband
Note: The iPhone and iPod touch do NOT support forward, back, fast forward, or rewind. Only play/pause is supported. This is a limitation of iPhone OS 3.0. For full remote control, get the iMuffs MB220 which includes the MA110 adapter.
Wireless Freedom

Throw your iPhone / iPod touch in your pocket and listen to your music wirelessly!
No more cords to untangle or snag. Enjoy CD quality sound up to 40' (12m) away thanks to the Advanced Audio Distribution Profile (A2DP) and Bluetooth 2.0.

Noise-Free Phone Calls

When your iPhone or Bluetooth phone rings, the phone seamlessly rings through the headphones, and lets you talk through the integrated microphone. Includes industry-leading cVc echo and noise cancelation.

Versatile

Listen to music from your laptop, desktop1 or MP3 smartphone2. Talk on the phone or over iChat or Skype.
1 Requires Bluetooth adaptor and Mac OS X 10.5 (Leopard) or Windows XP/Vista with proper drivers.
2 Must support stereo over Bluetooth using A2DP/AVRCP.